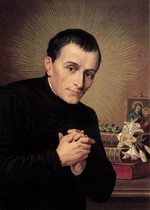 This was how Don Bosco described Fr. Cafasso (who taught them Moral Theology) as one of his professors in the Convitto:
"Remarkable was his ready, concise and lucid manner of answering. He had a talent for resolving even the most complicated doubts, difficulties and queries. The feeling was that his lectures were never long enough for them."
He spurred them to practice what they have learned. He did provide them the training on hearing confessions with such skill and piety and he never failed to talk about heaven as if one of his feet were already inside the gate.

When he taught them Homiletics, he emphasized that they should adapt their sermons to the level of intelligence of the congregation. He was keen to add that the sermon should be free from trivial and slang words, and it should be simple in diction and sentence structure.
He advised them to not end their sermons without allusion to the eternal truths.